Capital city: Manila
Total area: 300,000sq km
Population: 92.23 million (2009 census estimate)
Major religion: Roman Catholic (83%)
Currency: Philippine peso
Official languages: Filipino, English
The Republic of the Philippines is a country in Southeast Asia with Manila as its capital city. It constitutes an archipelago of 7,107 islands with a total land area of approximately 300,000 sq km. It borders the Philippine Sea on the east, the South China Sea on the west, and the Celebes Sea on the south.
Located on the northwestern fringes of the Pacific Ring of Fire, the Philippines has experienced frequent seismic and volcanic activities. Around 20 earthquakes are registered daily, though most are too weak to be felt. The last major earthquake was the 1990 Luzon earthquake.
People
The Filipino is basically of Malay stock with a sprinkling of Chinese, American, Spanish, and Arab blood. The Philippines has a population of 76.5 million as of May 2000, and it is hard to distinguish accurately the lines between stocks. From a long history of Western colonial rule, interspersed with the visits of merchants and traders, evolved a people of a unique blend of east and west, both in appearance and culture.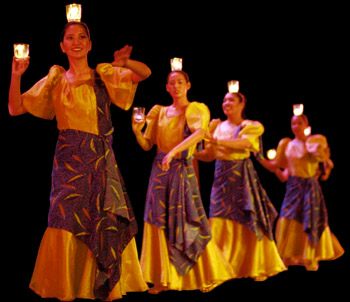 The Filipino character is actually a little bit of all the cultures put together. The bayanihan or spirit of kinship and camaraderie that Filipinos are famous for is said to be taken from Malay forefathers. The close family relations are said to have been inherited from the Chinese. The piousness comes from the Spaniards who introduced Christianity in the 16th century. Hospitality is a common denominator in the Filipino character and this is what distinguishes the Filipino. Filipinos are probably one of the few, if not the only, English-proficient Oriental people today. Pilipino is the official national language, with English considered as the country's unofficial one.
The Filipinos are divided geographically and culturally into regions, and each regional group is recognizable by distinct traits and dialects - the sturdy and frugal llocanos of the north, the industrious Tagalogs of the central plains, the carefree Visayans from the central islands, and the colorful tribesmen and religious Moslems of Mindanao. Tribal communities can be found scattered across the archipelago. The Philippines has more than 111 dialects spoken, owing to the subdivisions of these basic regional and cultural groups.
The country is marked by a true blend of cultures; truly in the Philippines, East meets West. The background of the people is Indonesian and Malay. There are Chinese and Spanish elements as well. The history of American rule and contact with merchants and traders culminated in a unique blend of East and West, both in the appearance and culture of the Filipinos, or people of the Philippines.
Perhaps due to their long association with Spain, Filipinos are emotional and passionate about life in a way that seems more Latin than Asian.
The Spaniards introduced Christianity (the Roman Catholic faith) and succeeded in converting the overwhelming majority of Filipinos. At least 83% of the total population belongs to the Roman Catholic faith.
The American occupation was responsible for teaching the Filipino people the English language. The Philippines is currently the third-largest English speaking country in the world.
Historically, the Filipinos have embraced two of the great religions of the world - Islam and Christianity. Islam was introduced during the 14th century shortly after the expansion of Arab commercial ventures in Southeast Asia. Today, it is limited to the southern region of the country.
Government
Country name:
conventional long form: Republic of the Philippines
conventional short form: Philippines
local long form: Republika ng Pilipinas
local short form: Pilipinas
Government type:
republic
Capital:
name: Manila
Administrative divisions:
80 provinces and 120 chartered cities
provinces: Abra, Agusan del Norte, Agusan del Sur, Aklan, Albay, Antique, Apayao, Aurora, Basilan, Bataan, Batanes, Batangas, Biliran, Benguet, Bohol, Bukidnon, Bulacan, Cagayan, Camarines Norte, Camarines Sur, Camiguin, Capiz, Catanduanes, Cavite, Cebu, Compostela, Davao del Norte, Davao del Sur, Davao Oriental, Dinagat Islands, Eastern Samar, Guimaras, Ifugao, Ilocos Norte, Ilocos Sur, Iloilo, Isabela, Kalinga, Laguna, Lanao del Norte, Lanao del Sur, La Union, Leyte, Maguindanao, Marinduque, Masbate, Mindoro Occidental, Mindoro Oriental, Misamis Occidental, Misamis Oriental, Mountain Province, Negros Occidental, Negros Oriental, North Cotabato, Northern Samar, Nueva Ecija, Nueva Vizcaya, Palawan, Pampanga, Pangasinan, Quezon, Quirino, Rizal, Romblon, Samar, Sarangani, Siquijor, Sorsogon, South Cotabato, Southern Leyte, Sultan Kudarat, Sulu, Surigao del Norte, Surigao del Sur, Tarlac, Tawi-Tawi, Zambales, Zamboanga del Norte, Zamboanga del Sur, Zamboanga Sibugay
chartered cities: Alaminos, Angeles, Antipolo, Bacolod, Bago, Baguio, Bais, Balanga, Batac, Batangas, Bayawan, Bislig, Butuan, Cabadbaran, Cabanatuan, Cadiz, Cagayan de Oro, Calamba, Calapan, Calbayog, Candon, Canlaon, Cauayan, Cavite, Cebu, Cotabato, Dagupan, Danao, Dapitan, Davao, Digos, Dipolog, Dumaguete, Escalante, Gapan, General Santos, Gingoog, Himamaylan, Iligan, Iloilo, Isabela, Iriga, Kabankalan, Kalookan, Kidapawan, Koronadal, La Carlota, Laoag, Lapu-Lapu, Las Pinas, Legazpi, Ligao, Lipa, Lucena, Maasin, Makati, Malabon, Malaybalay, Malolos, Mandaluyong, Mandaue, Manila, Marawi, Marikina, Masbate, Mati, Meycauayan, Muntinlupa, Munoz, Naga, Navotas, Olongapo, Ormoc, Oroquieta, Ozamis, Pagadian, Palayan, Panabo, Paranaque, Pasay, Pasig, Passi, Puerto Princesa, Quezon, Roxas, Sagay, Samal, San Carlos (in Negros Occidental), San Carlos (in Pangasinan), San Fernando (in La Union), San Fernando (in Pampanga), San Jose, San Jose del Monte, San Juan, San Pablo, Santa Rosa, Santiago, Silay, Sipalay, Sorsogon, Surigao, Tabaco, Tacloban, Tacurong, Tagaytay, Tagbilaran, Taguig, Tagum, Talisay (in Cebu), Talisay (in Negros Occidental), Tanauan, Tangub, Tanjay, Tarlac, Toledo, Tuguegarao, Trece Martires, Urdaneta, Valencia, Valenzuela, Victorias, Vigan, Zamboanga (2009)
Economy
Philippine GDP grew 7.6% in 2010, spurred by consumer demand, a rebound in exports and investments, and election-related spending, before cooling to 3.7% in 2011. The economy weathered the 2008-09 global recession better than its regional peers due to minimal exposure to troubled international securities, lower dependence on exports, relatively resilient domestic consumption, large remittances from four- to five-million overseas Filipino workers, and a growing business process outsourcing industry. Economic growth in the Philippines averaged 4.5% during the MACAPAGAL-ARROYO administration. Despite this growth, however, poverty worsened during her presidency. The AQUINO administration is working to reduce the government deficit from 3.9% of GDP, when it took office, to 2% of GDP by 2013. The government has had little difficulty issuing debt, both locally and internationally, to finance the deficits. The AQUINO Administration reduced public debt to below 50% of GDP and obtained several ratings upgrades on sovereign debt so that the Philippines is now close to investment grade. However, the lack of government spending, especially on infrastructure, was one of several factors which slowed GDP growth in the second half of 2011, leading the government to announce a stimulus effort and increased public spending on infrastructure in 2012. AQUINO's first budget emphasizesd education, health, conditional cash transfers for the poor, and other social spending programs, relying mostly on the private sector to finance important infrastructure projects. Weak tax collection, exacerbated by new tax breaks and incentives, has limited the government's ability to address major challenges. The AQUINO administration has vowed to focus on improving tax collection efficiency - rather than imposing new taxes - as a part of its good governance platform. The economy still faces several long-term challenges, including reliance on energy imports and foreign demand for overseas Filipino workers.